「LongJump」 に期間限定でアクセスを許されたので、少しだけ試してみました。
第一印象としては、「Netvibes」 や 「Pageflakes」 のような公開や共有が可能なスタートページサービスを、ビジネス向けに特化させたという感じです。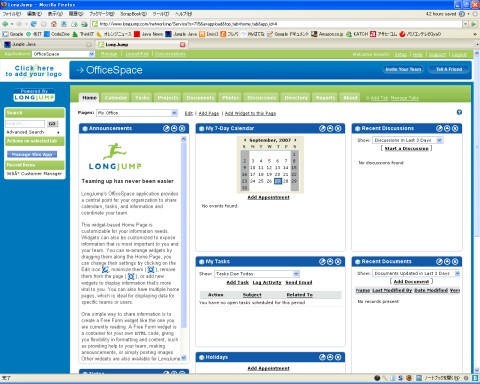 What is LongJump?
LongJump is a service that lets you easily create customized web applications that help you manage and coordinate business operations, teams, and information. Applications developed in LongJump let you share data among different users (team members) and specify access rights to that data.

関連情報
・TechCrunch Japanese アーカイブ » 新サイトがアプリケーション制作分野に「ジャンプ」イン
・TechCrunch Japanese アーカイブ » Netvibesにパブリックページをカスタマイズできる「Universe」新登場
・Netvibes UniverseでNetvibesもページの公開が可能に : ワークスタイル・メモ
・【レポート】Web2.0の集大成? - 情報をポータル画面に集約、Netvibes
・Pageflakes  (公開や共有が可能なウェブスタートページ) : ワークスタイル・メモ
・TechCrunch Japanese アーカイブ » Pageflakes Blizzardリリースをローンチ
・スタートページを共有できる「Pageflakes」 :ソーシャルメディア.jp
・Jungle Java - お洒落なスタートページサービス yourminis
・Jungle Java - Office 2.0 について考える